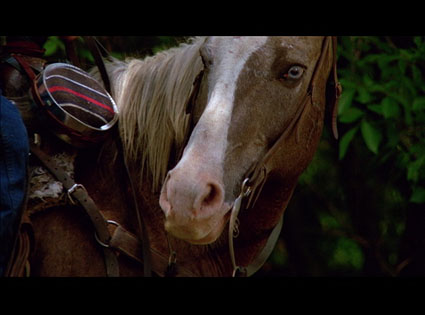 CHIPPEN GOLD Ė "Chip"

Chippen Gold (ĎChipí) is an 18-year-old registered Appaloosa gelding. Chipís entry into Hollywood is reminiscent of Lana Turnerís. Plucked from obscurity, or a Kansas pasture, Chip makes his acting debut in Trail End. Holding his own with acting legend Barry Corbin, Chipís charismatic personality shines through on the big screen. He easily won over the cast, crew and all eight-year-olds. With his palomino colored coat, white blanket and striking blue eyes, Chip could easily make a career for himself in Hollywood.

But life is humble for this cow pony. Born and raised on owner Tony Nixí cattle ranch in Hugoton, Kansas, Chip grew up as a working ranch horse. Helping Tony and the neighbors gather cattle and occasionally winning belt buckles for team roping had been Chipís day job. Nowadays, Chip still helps out with the cattle and leads Tonyís grandkids around the pasture. But donít be mislead, this olí boy is still quite spry. Tony points out that Chip sometimes bucks. ďHeíll take a spanking if he thinks he deserves it, but if he doesnítÖ he will buck.Ē And Tony should know Chipís little quirks. Tony, who also performs structural alignment for horses, bred and trained Chip.

So whatís life like after starring in a movie? Chipís back in pasture running with his mama and playfully opening every gate on the ranch. Acting was just another job for Chip. When offered a carrot on set, Chip refused it. No need to get a big head now.