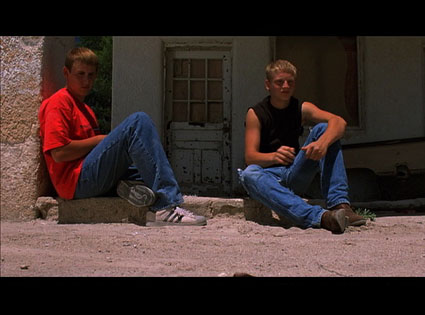 ISAAC LEVIN – "Firecracker Boy 1"

Dighton, Kansas native Isaac Levin was the lead male in the last two Dighton High School Musicals: Tied to the Tracks, his freshman year and When in Rome his sophomore year. He has been a member of the forensics team both years and went to state his freshman year in Humorous Duet Acting. He is active in football, basketball, golf, and Fellowship of Christian Athletes at school. Isaac has been on the academic honor roll all semesters of his high school career and was chosen for the All Academic Basketball team at the Cimarron tournament his sophomore year. His spare time is spent being involved in motor-cross riding, hunting, and church youth group mission trips. Isaac enjoyed the experience of meeting the actors and working with the Trail End crew.


TYREL HOFFMAN – "Firecracker Boy 2"

Tyrel Hoffman is from Dighton, Kansas and actively involved in his community. He participates in school sports including football, basketball, track, baseball and weight lifting. Tyrel is also involved in FFA, High School Band, Boy Scouts, 4-H and Saddle Club. He is on the school honor roll and was awarded the American Legion Citizenship award and Kansas High School Activity athlete award. Tyrel likes to volunteer his time to help youth sports activities. He is a member of Dighton Methodist church and is active in church activities. Tyrel's Hobbies include sports and riding horses.