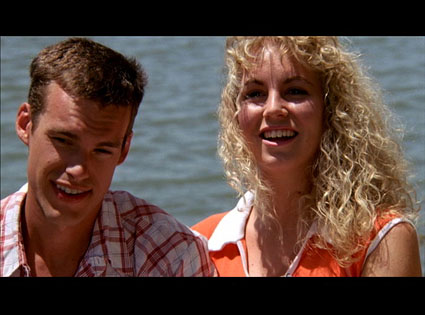 T'LANE BALUE BRIGGEMAN Ė "Young Lover"

TíLane Balue Briggeman is from Pratt, Kansas and currently a junior at the University of Kansas, studying accounting. Following graduation in May 2008, she plans to move to Los Angeles and further pursue an acting career. Discovering her love for acting at a early age, TíLane started acting, dancing and singing in musicals in 1993. Since then she has been in 15 theatrical performances, including Annie, Children of Eden, and The King and I. Trail End is her first film appearance.

In 2003, TíLane competed in the America Modeling and Talent Convention in Orlando, Florida. At this competition, she received 2nd place overall for her television commercial and was elected role model of the year for her agency.

Besides acting, TíLane has been featured in the 2006 Big Dog Motorcycle Calendar as Miss November and on Sheplerís website many times modeling western wear.

Dancing is another passion of TíLaneís. She has been taking lessons since 1991 and is a member of Unity, the hip hop dance troupe at the University of Kansas. TíLane is represented by Models & Images, based out of Wichita, Kansas.


TODD BLUBAUGH Ė "Young Lover"

Todd Blubaugh was born and raised in McPherson Kansas, a small town known for its tractors and basketball programs. After graduating, Todd moved towards the Kansas City area to skate and attend the University of Kansas where he earned a Bachelors degree of Fine Arts. In 2006, the same day Todd graduated from KU, he boarded an airplane and flew to Spain where he spent the next month inline skating for an action sports film Members Only.

Toddís professional skating career took him around the world and placed him in more then ten films and on the pages of many skating magazines.

In November 2006, Todd relocated from Kansas City to Seattle to work as a graphic designer for one of his former sponsors, K2 sports. Today, Todd spends his free time skating and snowboarding in the Pacific North West but plans some day on returning to Kansas to settle down with a wealthy sugar mama.