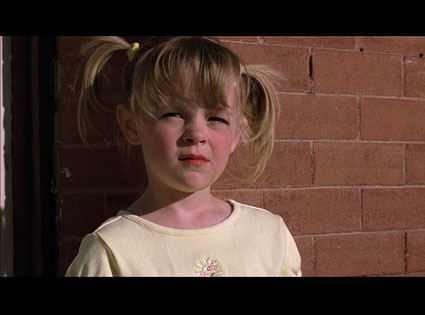 LIBERTY SMITH – "Pig-Tailed Girl"

Liberty Smith, an 8-year-old Missouri native, began her acting career at age 5 working in commercials. She segued into television at age 6 when she landed a co-star role on the CBS hit, Judging Amy. She has tried to work non-stop ever since, as she enjoys entertaining others a great deal. Her commercials have run locally in Missouri as well as nationally and she has also been in print ads, student films, shorts (such as Trail End), and is currently rehearsing for her first play, set to open in April. She is the only child in an otherwise all-adult cast.

A few months following her work on Judging Amy, Liberty worked on her first movie, Saving Shiloh, as the youngest sister of Marty Preston, played by Jason Dolley. She is looking forward to continuing in this business and says the greatest part of acting for her is "getting to pretend to be someone you're not."

When she isn't acting Liberty enjoys playing soccer, softball, taking gymnastics, writing and illustrating her own stories, reading, playing with friends and her dog (Shilah) and watching the Disney channel.